Welcome to Mesa
The Mesa district is just steps from the hustle and bustle of downtown
Santa Barbara
, but offers a quiet, charming network of neighborhoods that sit right next to the Pacific Ocean and enjoy spectacular, unobstructed views of the water, the
Channel Islands

,
and the city. This laid-back, family-friendly area is home to
Santa Barbara City College
, several parks, wonderful schools, and close, convenient shopping. It's understandable that this neighborhood was named Santa Barbara's Best Neighborhood several years in a row.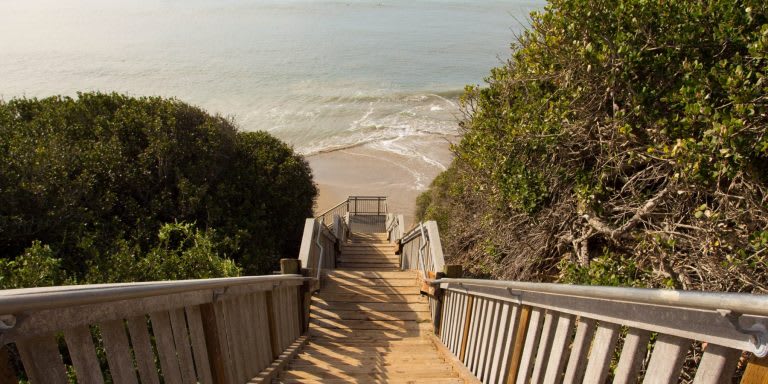 The Mesa, or "table," ascends sharply at SBCC's campus and extends along a high, flat plateau for more than 2 miles, to

Douglas Family Preserve

and

Arroyo Burro Beach

.

Shoreline Park

sits right at the edge of the bluff and has areas for cookouts, a playground, and large, grassy expanses to watch for whales. The beaches, which extend all along the Mesa, are accessible from several sets of stairs along Shoreline Drive.
Homes are dotted along the bluff and extend up into the hills behind, a nice mix of single family homes, condos, and oceanfront properties that embrace this laid back lifestyle and more temperate weather – the Mesa tends to be a little warmer in the winter and a little cooler in the summer than the rest of the city, benefiting from the close ocean air that creates a little Mesa "micro climate." That may be why the Mesa always seems to be bursting with blooms.
A popular neighborhood with artists and writers, the Mesa is also very family-friendly, bike-friendly, and just minutes away from downtown,

Santa Barbara Harbor

and the 101 freeway.
Aside from it's proximity to the beach, Shoreline park and Douglas Preserve, Mesa's elementary school, Washington school is a reason why many families choose to live in this part of the city of Santa Barbara. Lazy Acres and many other popular local restaurants are located in this area.